THE STRONGEST AND MOST FLEXIBLE BUSINESS SOLUTION ON THE MARKET
What is Microsoft Dynamics 365?
ERP and CRM combined in one total solution
With Dynamics 365, Microsoft has created the next generation of intelligent business applications that will steer companies towards and through their digital transformation.
With Dynamics 365, Microsoft has gathered together all the basic functions a company needs in one location, combining two strong systems, the ERP and CRM functions in one single solution – in which they all work together as apps, based on one shared data model.
The shared data model means that the exchange of data between individual apps no longer requires any integration. This makes it easy to select what you need, so Dynamics 365 offers you all the flexibility and scalability you need to support your company´s growth and digital transformation
---
Dynamics AX is now two apps in Dynamics 365
The planning software you might have known as Dynamics AX has now been changed to two apps in Dynamics 365 called Dynamics 365 Supply Chain Management and Dynamics 365 Finance, respectively.
Together, they are still Microsoft's strongest ERP solution for companies that need a strong tool to manage advanced logistics.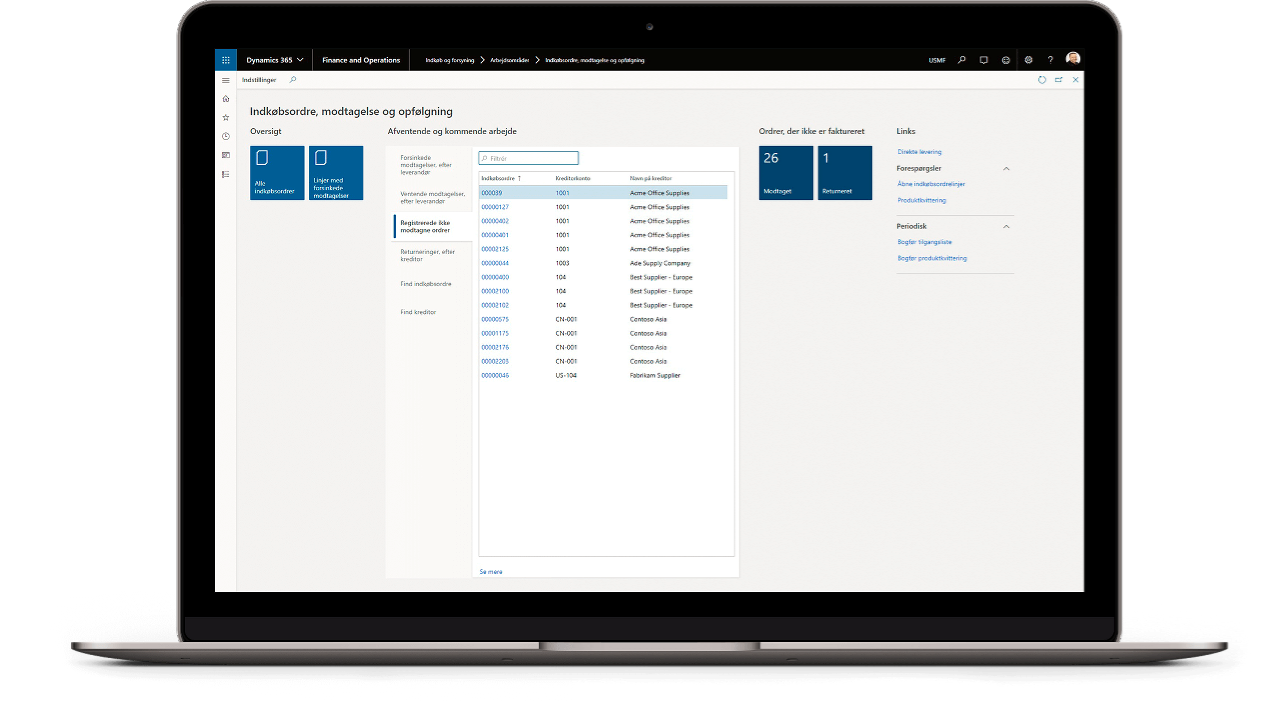 What you can do with Dynamics 365
Dynamics 365 has consolidated all your business functions in one system and that gives you a number of advantages.
---
---
---
---
---
---
---
Anyone can access Dynamics 365 - anywhere
Two major changes have been made to the system's accessibility in Dynamics 365 which again gives the company a number of significant advantages when working with this solution.
For one thing, Dynamics 365 has moved onto the Cloud and secondly, Dynamics 365 uses browser technology which does not need to be installed on each individual computer; it just requires an internet connection. This means you can access the solution no matter where you are or which device you are using.
A real cloud-based solution
Dynamics 365 was initially intended to be cloud-only solution with all of its applications hosted in Microsoft Azure, Microsoft's cloud computing platform.
Microsoft Azure is extremely secure as it is monitored far more closely than any company server.
If, for some reason, you do not wish to have a cloud-based solution, other options exist. Either as an "on premise" solution or a hybrid solution.
Four important features that will benefit the large, international company
Dynamics 365 Supply Chain Management was designed to support even the most complex business processes in large, international companies.
We can help your business grow
For more than 30 years, we have specialized in proven Microsoft ERP solutions that optimize the supply chain in large and medium-sized manufacturers and wholesalers.
Based on the extensive experience we have gained in industry, we have developed Axcite Supply Chain, our own solution which has been specially designed for these industries in particular. So if your business involves manufacturing or wholesale supply using advanced logistics and distribution, then we're the perfect match!
Let's have a talk how we can help your business grow.
We would be happy to share our experiences with you. At no charge of cources.