Axcite Transportation
Control your shipments directly from your ERP system
Increased efficiency and higher quality
Axcite Transportation, that integrates your Microsoft Dynamics ERP system with the nShift Webshipper (former Consignor) freight platform, makes it easy for you to manage your shipments using parameter settings and predefined data in your ERP system. Very little information has to be entered which minimizes the risk of errors and streamlines the whole shipping process.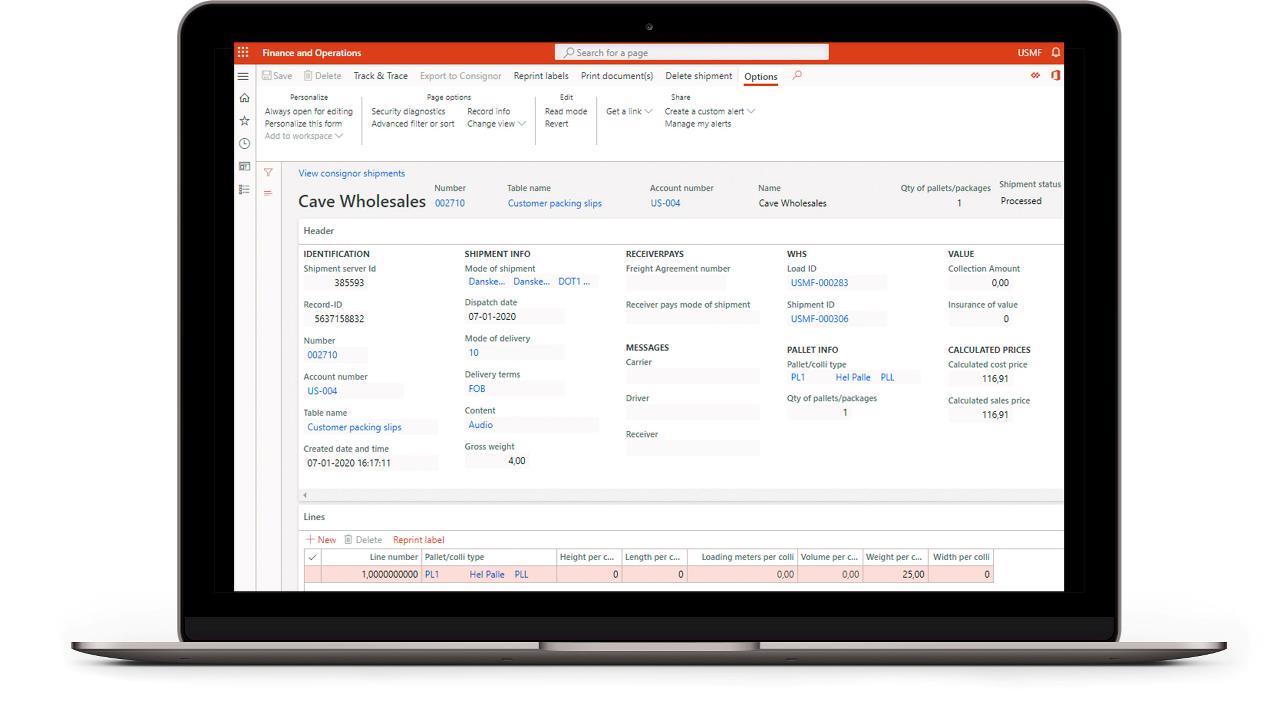 What Axcite Transportation can do for you
By integrating your ERP system with the freight platform nShift, you will be able to manage shipments directly from your ERP system, which not only makes the whole process more efficient, it also gives you a number of advantages.
---
---
---
The tangible benefits you'll enjoy
Axcite Transportation makes shipment handling easy and effective.
You benefits include:
For the Warehouse Manager the benefits are:
Efficiency: More efficient shipment processes.

Minimal extra costs: It will no longer be necessary to pay for the same goods to be shipped again.

Easier staffing: The solution requires a minimum of system knowledge, so it is easy to assign new employees during holiday leave etc.

Fewer mistakes: Potential errors are minimised when the system automatically generates much of the information that would otherwise have to be entered for the shipment.

Traceability: With Track & Trace direct in Dynamics 365 FO/AX, you are constantly aware of where all shipments are located.
---
For the Sales Responsible the benefits are:
Simpler business procedure: One system is used to manage all shipments.

Traceability: You can always tell the customer where the shipment is by simply looking up the sales order.

Customs invoice automatically printed: The system automatically prints a customs invoice if needed.

Flexible execution with fewer errors: Less risk of bottlenecks in the shipment and failed deliveries minimised.

Shipping rates are automated: The shipping rate is automatically returned to Dynamics 365 from the freight carrier.
---
For the shipment employeer the benefits are:
Faster workflows: Your shipments will be processed faster and there is less chance of backlogs when under pressure.

One printer for all freight carriers: You no longer need to keep track of different printers and labels.

Easier to work with packing notes: The system automatically fills out most of the fields on the packing note.

Customs invoice automatically printed: The system automatically prints a customs invoice if needed.
Other valuable add-on solutions for optimizing your supply chain
---
Do you want to know how you can benefint from Axcite Transportation Management?
Please fill out the form with your contact information, and we will get back to you as soon as possible.