Strong solution for your global financial operations
Microsoft Dynamics 365 Finance
We provide the most effective solution on the market when it comes to financial, accounting and project management. Nothing else can give you a better overview of your company or boost its efficiency more than this. Finance and accounting is the very heart of your operation, and Microsoft Dynamics 365 Finance supports all of these financial functions from the most basic to the more complex.
Better overview, control and management
With Dynamics 365 Finance, you get a strong ERP system that will support your financial department and the rest of your company in their daily tasks. You'll have tools at your disposal to improve long-term profitability and stability. It will not only give you more insight into your company's financial position and key figures, but will also update you on the status of projects – an overview that will make it easier to prioritize the day-to-day goals of the business and will give you better control of the budget. In addition, this user-friendly project management tool also makes it easy to perform the various administrative tasks that accompany each project.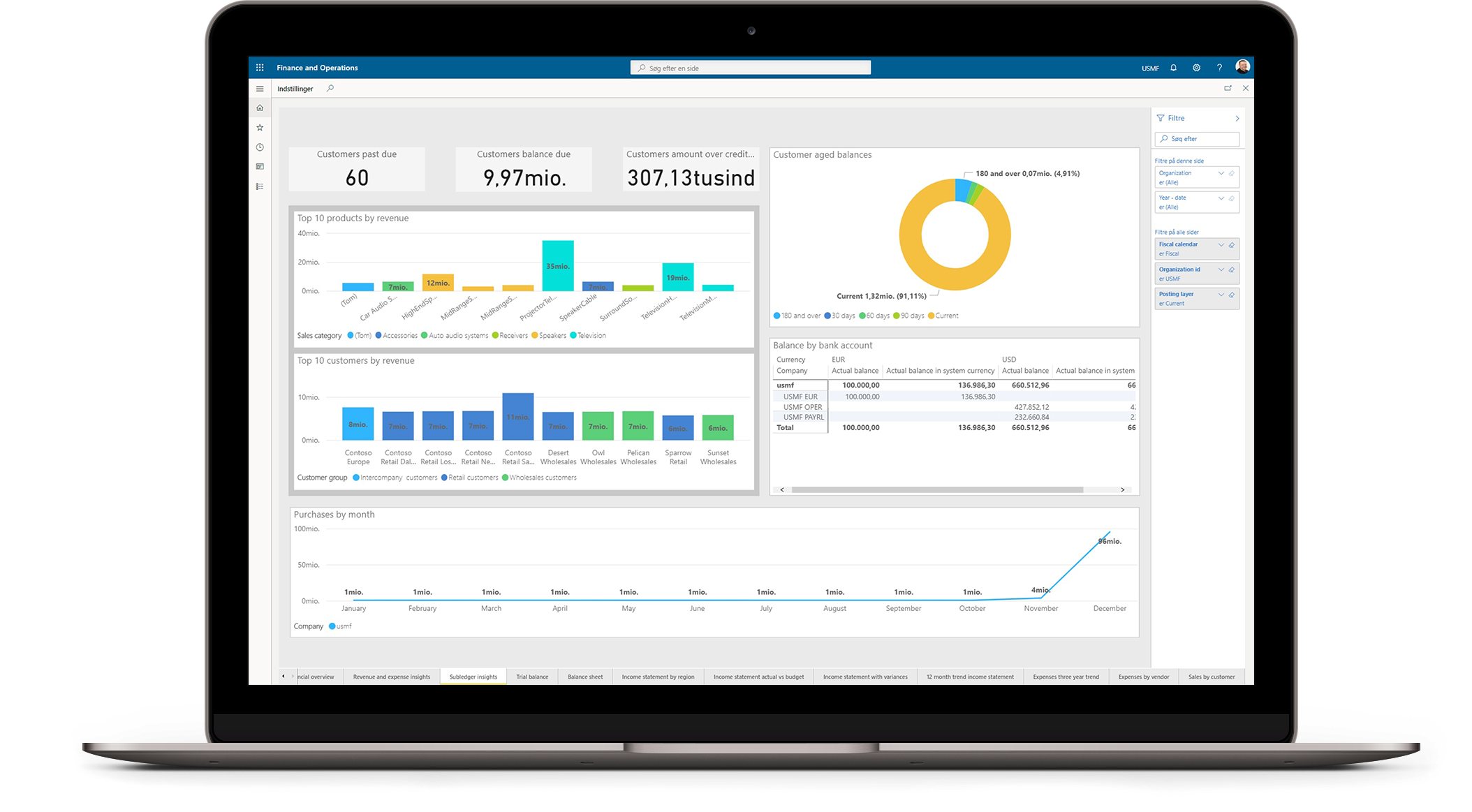 4 advantages of using Microsoft Dynamics 365 Finance
Use AI to assist with strategic financial decisions
Accelerate the closing of the financial year and simplify your global financial management using its comprehensive reporting functions, financial intelligence and integrated real-time analyses.
---
Consolidate and automate your financial processes
Enjoy the benefits of automated and prioritized accounting tasks using, among other things, role-based workspaces and Office 365 integration.
---
Reduce operating expenses
Run your business more efficiently across all company geographical locations using automated financial processes, budget control and financial planning and analyses.
---
Reduce the global financial complexity and risk
A flexible, automated, rule-based office plan including the dimensions makes it easy to adapt to changes in global financial requirements.
Microsoft Dynamics 365 Finance can assist with all your essential processes
You will get recognized financial functions with broad, in-depth functionalities such as:
Budgeting
Bookkeeping
Financial Reporting
Accounts Receivable
Expense Management
Liquidity Management
Reporting
Valuable add-on solutions
We have developed add-on solutions for Dynamics 365 that optimizes financial processes and workflows in your organization.
---
Do you want to know how Dynamics 365 Finance can help your business grow?
We would be only too happy to share our experience with you. At no charge and with no obligation, of course.